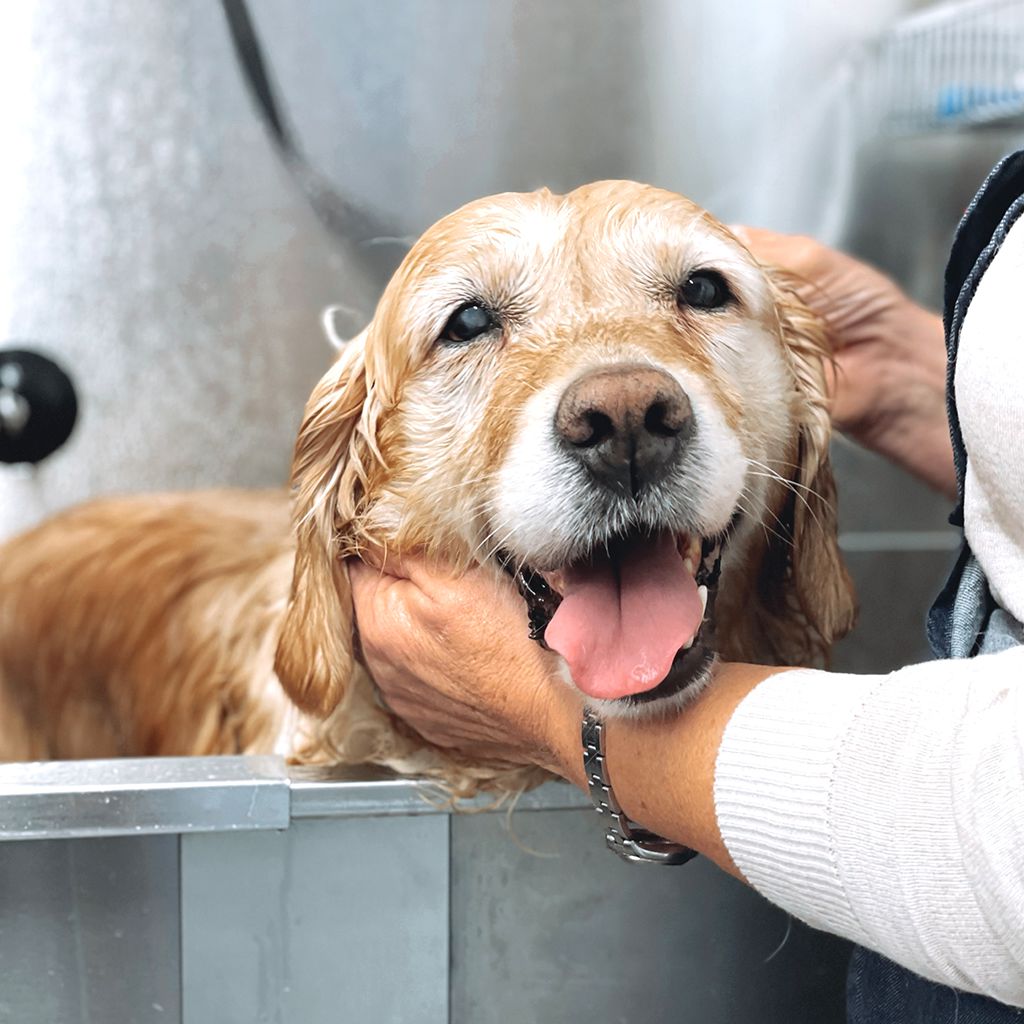 Dog Grooming at Charlie + Co ✂️
Welcome to The Dog House!
Here we're passionate about providing pets of all shapes, sizes and personalities the very best care. Our professional groomers are focused on providing pooch pampering services in a safe and relaxing environment.
Booking is easy. Use our online booking system to see available dates, times and services, then secure an appointment that suits you and your dog. Plus, access your appointment history to stay on top of your pet's grooming routine.
Impawtant Info 📑
Appointments
Our services are run on an appointment only basis to ensure your dog receives a fully focused and dedicated grooming session. We ask that you please reschedule or cancel at least 24 Hours before the beginning of your appointment or you may be charged a cancellation fee. Our cancellation fee is 50% of the minimum service cost for your appointment, and 100% for no shows.
Prices
All prices shown are a starting price. Prices are only determined after a free consultation (at grooming appointment) where the breed, size, coat type and condition will be taken into consideration. Extra charges may apply for significant matting, unruly behaviour or parasites.
By booking an appointment with us you agree to the FULL TERMS & CONDITIONS.
Spa Treatments 🚿
Bath, Brush & Blow Dry

Perfect for in-between grooms or to get rid of those muddy paws! This treatment includes a warm water bath and relaxing massage in a shampoo tailored to their coat type, followed by a fluff dry and a good brush out.
Maintenance Groom

The perfect treatment to keep your dogs coat in good condition in-between their main grooms! Includes a warm water bath, a relaxing massage in a shampoo tailored to your dog's coat type, followed by a fluff dry and a good brush out.


If needed, nails will be clipped and eyes, pads and sanitary areas trimmed.
Full Groom

The full works! This treatment starts with your pooch receiving a thorough pre-groom ensuring their coat is detangled and matt free.

They will then enjoy a warm bath and relaxing massage in a shampoo tailored to their coat type, followed by a fluff dry, brushed out and styling to your individual preference.

This treatment also includes nail trimming, ear plucking and cleaning and is finished off with a spritz of a beautiful hand-selected fragrance.
Hand Stripping

Finger and thumb technique that helps retain natural colour and texture of the coat. Suitable for wire type breeds such as Terriers or silky coats such as Spaniels and Setters.
Puppy Pamper (Up to 6 Months)

Grooming is a major part of your dog's wellbeing, we recommend that you introduce grooming at an early age. Your puppies introduction to grooming is very important, so to allow us to tailor each puppy individually we offer a Puppy Pamper session.

These sessions include a warm bath using a mild puppy shampoo, followed by a fluff dry and a gentle brush. A hygiene clip, trim of the face, feet and nails (if needed) and lots of cuddles!
Ultrasonic Dental Cleaning

Ultrasonic teeth cleaning is a non-invasive, silent and motionless treatment that gently removes plaque and tartar build-up, protecting against bad breath and loss of teeth.

Reaching deep beneath the gum line the Ultrasonic waves strengthen the gum tissue and help prevent inflammation and peridontitis.
Add-ons
Blueberry Facial

Introducing the "Blueberry Facial" - A Berry-licious Delight for Your Pooch!

Massaged gently onto their face, this blueberry-infused treatment is kind to the eyes and ears. It reduces tear staining on lighter coats and cleans facial folds for popular breeds like Pugs, Shih Tzus, and Bulldogs. Hypoallergenic and lick safe!
Deep Ear Cleanse

Give your furry friend's ears the royal treatment with our "Deep Ear Cleanse" add-on service. Our skilled groomers gently clean and remove buildup, promoting healthy ears and preventing discomfort. The perfect treatment for breeds that are prone to smelly ears/ear infections.
Fold Fix

Give your beloved four-legged friend's adorable facial folds the spa treatment they deserve with our luxurious "Fold Fix" add-on service. We understand the unique needs of breeds like Frenchies, Pugs, and others with charming wrinkles, creases, and folds. Let us pamper your pup with our natural balm specially formulated to soothe, heal, and protect those precious areas.
Simple Teeth Clean & Fresh Breath

Enhance your dog's dental health with our "Simple Teeth Clean and Fresh Breath Foam" add-on service. Our natural gel with baking soda, plant enzymes, and peppermint oil controls germs that cause bad breath and plaque. Complete the treatment with a refreshing foam breath freshener.
Walk-in Services
Face Trim

Are you tired of your furry friend's face disappearing behind a furry curtain? Say no more!

Here at Charlie + Co, our skilled groomers will sculpt your pups facial hair with no appointment necessary!

(subject to availability)
Nail Clip

We offer quick and convenient nail clipping to keep your pup's paws happy and your floors scratch-free.

Our skilled groomers understand that nail maintenance is an essential part of your dog's overall well-being. With our walk-in service, you can simply stop by whenever it's convenient for you and your furry friend. No appointments needed!

(subject to availability)
Meet the Groomers 👋
Learn a little bit about the talented groomers here at Charlie + Co below!
Heidi

Hi, I'm Heidi 👋

Growing up on a family farm in Malvern, Worcestershire, I have always been surrounded by animals. I began grooming the family dogs, but this quickly led to finding my passion for the industry.

I now have a BTEC National Diploma in Animal Management, a City & Guilds qualification in Dog Grooming and have been working as a professional dog groomer since 2018.

One thing I love most about working in the grooming industry is there's always new skills and techniques to learn; no day or dog is the same!

I can't wait to meet your pooches!


Abbie

Hi, I'm Abbie 🐾

I've always had a passion for working with animals and after finishing University with a degree in Equine Behaviour, I decided to make a switch to Dog Grooming.

I qualified as a Dog Groomer in 2021 and over the past 2 years I have worked with and been trained by some amazing groomers. My aim is to make the grooming experience as positive as possible for your pooches and share my knowledge around all things grooming!

I can't wait to further my knowledge and confidence at Charlie + Co!
📍 5 Church Walk, Nantwich, Cheshire, CW56GW, United Kingdom.
Standard Opening Times


Bank Holiday hours may vary.

Monday
09:00 - 17:00
Tuesday
09:00 - 17:00
Wednesday
09:00 - 17:00
Thursday
09:00 - 17:00
Friday
09:00 - 17:00
Saturday
09:00 - 17:00
Sunday
10:00 - 16:00
///tougher.commuted.tones

This what3words address refers to a 3 metre square location. Tap the link or enter the 3 words into the what3words app to pinpoint our exact location.
Parking 🚘
Closest Car Parks:
Church Lane, CW5 5RQ (Up to 2 Hours)
Bowling Green, CW5 5DN (Up to 5 Hours)
Civic Hall, CW5 5DG (Up to 5 Hours)
Snow Hill, CW5 5LS (Up to 10 Hours)
Love Lane, CW5 5BH (Up to 10 Hours)
Most car parks in Nantwich accept payments via the paybyphone app.


Contact Us 👋
Our team is small! So we've tried our best to provide all the info you need to manage your own destiny... (appointments) by using the 'Manage Appointment' button and in our FAQs below, but if you still need assistance then please get in touch:
Email: grooming@charlieandco.uk
Tel: 01270 914100
FAQs ❔
How do I cancel or reschedule my appointment?

You can easily request changes to your appointment by following the link in your original appointment email, text confirmation or clicking the 'Manage Appointment' button above.
Why is there a matting fee?

In the interest of animal care and wellbeing, severely matted coats will be shaved off using electric clippers with a close blade. To de-matt would cause the animal prolonged pain, distress and discomfort. Many dogs can be left traumatised by unnecessary hours of de-matting, putting them off grooming for life. Shaving the coat is the quickest and most humane method for the animal.

Owners will always be advised before this is done.

Our normal grooming rates do NOT include de-matting. De-matting will be charged at £15 extra due to the following:

Manually de-matting a dog's coat is a time-consuming process often this can result in the groomer having to cancel upcoming appointments to allow additional time to appropriately de-matt.
Shaving any part of a dog's coat is a last resort, and the groomer has usually spent a significant amount of time and product trying to de-matt areas as humanely as possible before resorting to shaving.
The shaving of a matted coat requires specialist equipment and matting blunts this equipment requiring it to be replaced and serviced more regularly.
Can/should I stay during the groom?

As dog lovers we understand that sometimes owners may want to stay with their dog during their treatment, particularly if the dog is nervous, elderly or has a pre-existing medical condition.

Our groomers are happy to discuss your dog's needs and on a discretionary basis the groomers will allow owners/humans to stay with their dog. However, in most cases dogs tolerate grooming significantly better when their owners are not present.

If you want to discuss staying with your dog during their treatment, please email us on grooming@charlieandco.uk
Do I have to remain on the premises whilst my dog gets groomed?

No, in most cases it's in your dog's best interest and safety that you drop them off at their scheduled appointment and come back when the treatment is complete.

Charlie + Co boasts a desirable town centre location and has the added bonus of also being a dog friendly coffee shop serving a range of delicious hot and cold beverages and a selection of cakes. You are welcome to stay and have a coffee downstairs or leave the premises entirely. The groomer will call you when your pooch is ready for collection.
My dog is nervous, can I still book them in?

For dogs that are particularly nervous of being groomed or handled, we'd recommend our Nervous Dog package. This package is an introductory, desensitisation to grooming programme that typically consists of shorter treatment sessions offering a graded approach to grooming entirely led by and tailored to your dog's tolerance.

We aim to create a positive and playful salon experience for your dog whilst progressively introducing them to various pieces of salon equipment and techniques. Our groomers are happy to discuss this treatment with you, please email us grooming@charlieandco.uk
When should my puppy come in for its first groom?

Grooming is a major part of your dog's wellbeing; we recommend that you introduce grooming at an early age so that so they can get used to and learn to love the grooming experience.

Your puppy's introduction to grooming is critical, so to allow us to tailor the experience to each puppy individually, we offer a Puppy Pamper session.

This session is bookable from 14 weeks (or at least 2 weeks after their last vaccination).
How long will it take to groom my dog?

Approximate times for each treatment are listed on our booking page; however, it's important to note that the time taken will depend on multiple factors such as the condition and length of your pooch's coat, their behaviour and tolerance to grooming.

The groomer will call you when your freshly pruned friend is almost ready for collection.